Topics: Peripheral Artery Disease, Diabetes, PAD Symptoms, high blood pressure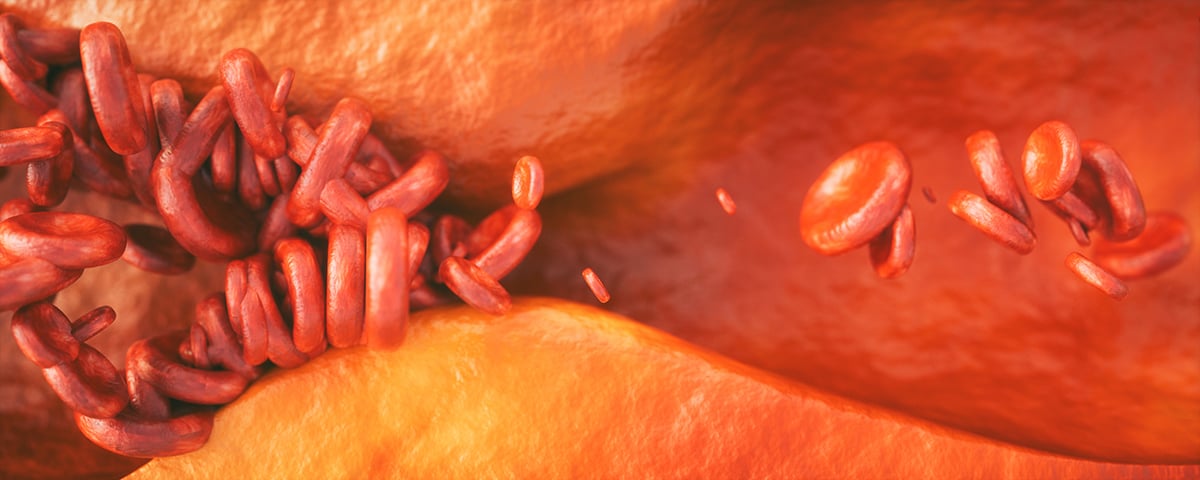 Peripheral artery disease (PAD), is characterized by atherosclerosis in the arteries of the lower limbs. This disease sadly goes underdiagnosed, and is often not treated and not well understood by many in the medical community. In order to fully understand peripheral artery disease, it is important to examine some of the causes.
There are a number of risk factors that make people susceptible to the development of peripheral artery disease (PAD). Peripheral artery disease is commonly known as the build-up of atherosclerosis in the arteries. Atherosclerosis occurs when fats, cholesterol and other substances build-up and block the blood flowing through the arteries. As previously mentioned, there are many causes of PAD but here are eight causes that everyone should be aware of.
1. Diabetes as a risk factor
Diabetes significantly increases the possibility of a patient developing PAD. Patients with diabetes are four times more likely to develop peripheral artery disease. In addition, patients are more likely to experience cardiovascular events and an early death. Out of all of the symptomatic patients with PAD, 20% of them had diabetes.1 According to the American Diabetes Association, there is likely a larger number of asymptomatic patients with PAD and diabetes.2
Patients with diabetes may have reduced pain perception because they experience peripheral neuropathy. Peripheral neuropathy describes weak or numb feeling in the patient's hands and feet that is caused by nerve damage. Therefore, it is extremely likely that a patient that has diabetes and PAD will not notice the symptoms of PAD until the more painful symptoms such as ischemic ulcers or gangrene occur. However, a patient who has peripheral artery disease but not diabetes might notice the less severe symptoms of PAD earlier than a patient who has both PAD and diabetes.2
The best indicators of future amputations are ulcers on the lower-limbs.3 Patients who have Diabetic Foot Disease are extremely worried about needing leg or foot amputation. In fact, these patients fear amputation more than death.4 Of the segment of patients with diabetes who have a leg or foot amputation, over half of them will have their second leg amputated 2‐3 years after their first amputation.5
Patients with uncontrolled diabetes have an increased risk for PAD. Therefore, if patients want to lower their risk for peripheral artery disease, they need to have their diabetes under control.
2. Smoking as a Cause of Peripheral Artery Disease
Smoking is the only preventable cause of peripheral artery disease. If you smoke cigarettes, you are seven times more likely to develop PAD.9,10,11,12 Many people may not know this but smoking is a larger risk factor for peripheral artery disease than for coronary artery disease.13 Additionally, smokers experience peripheral artery symptoms nearly 10 years before non-smokers.14
Also, smoking is linked to a higher risk of developing atherosclerosis. In addition, 70–90% of the patients who have chronic limb ischemia were smokers in the past or are current smokers.15,16,17,18 Critical limb ischemia is the most severe form of peripheral artery disease where patients suffer from foot wounds and ulcers. Also, patients with critical limb ischemia suffer from an inability to heal wounds and may require amputation. Amputations are actually much more common in patients who have been heavy smokers in the past.19 Lastly, it is very important to remember that smoking is the only avoidable cause of peripheral artery disease.
3. High cholesterol (Dyslipidemia)
Another cause of peripheral artery disease is high cholesterol. If a patient has a high cholesterol level then their risk of developing PAD and coronary artery disease significantly increases. Therefore, high cholesterol levels is one of the most prominent causes of PAD. Research from the Center for Disease Control shows that over 60% of patients with peripheral artery disease struggled with high cholesterol levels.20 High cholesterol levels are associated with twice the risk for chronic leg pain as well. If a patient treats their high cholesterol they may be able to lower their risk of PAD development.
4. Older age can be a cause of peripheral artery disease
As people age, their risk for atherosclerosis also increases . Middle-aged or older patients often have enough plaque built up in their arteries they will begin to experience symptoms of PAD. Moreover, studies show that the risk of peripheral artery disease escalates after the age of 40. Patients in their 60s and 70 have their risk of PAD increase 10%. As the global population ages, there will likely be more cases of PAD in the future.21
5. Metabolic syndrome risk level
Metabolic syndrome is the cluster of conditions such as obesity, high cholesterol, high blood sugar, and high blood pressure. Patients with metabolic syndrome have a higher risk for peripheral artery disease and for coronary artery disease.22
Research actually found women with metabolic syndrome had a greatly increases risk of developing PAD. According to the statistics, women with metabolic syndrome had a 62% higher chance of developing PAD than patients without metabolic syndrome.23
6. High Blood Press (Hypertension)
High blood pressure is an additional cause of peripheral artery disease and the development of atherosclerosis in general. Upwards of 90% of patients with peripheral artery disease have hypertension as well.24 This shows that high blood pressure is a key cardiovascular risk factor for PAD too.
Similar to water running through a hose, blood can only fill the arteries to a certain point. Just as too water forcing its way through a hose can harm the hose, high blood pressure can damage your arteries and lead to conditions like PAD.
7. Chronic Kidney Disease PAD risk
Finally, chronic kidney disease (CKD) is another one of the causes of peripheral artery disease. People with CKD have a higher risk of PAD and its developing its symptoms when compared to individuals with standard renal function.25 Typical atherosclerosis has risk factors such as age, smoking, diabetes, hypertension and hyperlipidemia. These risk factors are quite common in patients with chronic kidney disease. Additionally, chronic kidney disease also has unique risk factors that increase the chances of peripheral arterial disease. Some of these risk factors include chronic inflammation, hypoalbuminemia and a pro-calcific state.
Conclusion:
Overall, there are many different causes for peripheral artery disease. Although all of the causes of PAD except for smoking are unavoidable, there is a great option for treating peripheral artery disease. A Lumivascular atherectomy allows your doctor to see inside of your arteries and safely remove diseased tissue without harming any of the healthy tissue. If you have PAD and want to improve the blood flow in your arteries, a Lumivascular atherectomy could be the best option for you. Please click here to find a Lumivascular atherectomy doctor in your area.
Take Action:
If you have found this article helpful, please don't forget to share!
References:
Elhadd, et al. Pilot study of prevalence of asymptomatic peripheral arterial occlusive disease in patients with diabetes attending a hospital clinic. Practical Diabetes Int 1999; 16: 163-166

Sheehan, et al. Peripheral Arterial Disease in People With Diabetes. Diabetes Care 2003 Dec; 26(12): 3333-3341.

Beckert, et al. A New Wound-Based Severity Score for Diabetic Foot Ulcers. Diabetes Care 2006; 29:988–992

Wukich, et al. Patients With Diabetic Foot Disease Fear Major Lower-Extremity Amputation More Than Death. Foot Ankle Spec. 2018 Feb;11(1):17-21.

Pandian, et al. Rehabilitation of the Patient with Peripheral Vascular Disease and Diabetic Foot Problems. In: DeLisa JA, Gans BM, editors. Philadelphia: Lippincott‐Raven; 1998.

Kannel, et al. Update on some epidemiologic features of intermittent claudication: the Framingham Study. J Am Geriatr Soc. 1985;33(1):13-18

Smith, et al. Atherosclerotic vascular disease conference: writing group II: risk factors. Circulation 2004;109(21):2613-2616

Wattanakit, et al. Risk factors for peripheral arterial disease incidence in persons with diabetes: the Atherosclerosis Risk in Communities (ARIC) Study. Atherosclerosis 2005;180(2):389-397

McGill HC. The cardiovascular pathology of smoking. Am Heart J. 1988;115:250–257.

Murabito, et al. Intermittent claudication. A risk profile from The Framingham Heart Study. Circulation. 1997;96:44–49.

Powell, et al. Risk factors associated with the development of peripheral arterial disease in smokers: a case control study. Atherosclerosis. 1997;129:41–48.

Cole, et al. Cigarette smoking and peripheral arterial occlusive disease. Surgery. 1993;114:753–756

Lu, et al. The Relationship of Cigarette Smoking to Peripheral Arterial Disease. Rev Cardiovasc Med. 2004;5(4):189-193

Olin, et al. Peripheral Artery Disease: Current Insight Into the Disease and Its Diagnosis and Management. Mayo Clin Proc. 2010 Jul; 85(7): 678–692.

Hiatt, et al. Effect of diagnostic criteria on the prevalence of peripheral arterial disease The San Luis Valley diabetes study. Circulation. 1995 Mar 1;91(5):1472–9.

Kannel, et al. Update on some epidemiological feature of intermittent claudication: the Framingham Study. J Am Ger Soc. 1985 Jan;33(1):13–8.

Kannel, et al. Latest perspectives on cigarette smoking and cardiovascular disease: the Framingham study. J Card Rehabil. 1984;4:267–77.

Vogt MT, Cauley JA, Kuller LH, Hulley SB. Prevalence and correlates of lower extremity arterial disease in elderly women. Am J Epidemiol. 1993 Mar 1;137:559–68.

Jensen, et al. The Prevalence of Chronic Critical Lower Limb Ischaemia in a Population of 20,000 Subjects 40–69 Years of Age. Eur J Vasc Endovasc Surg. 2006 Jul;32(1):60-5.

Selvin, et al. Contemporary risk factor control and walking dysfunction in individuals with peripheral arterial disease: NHANES 1999-2004. Atherosclerosis 2008;201(2):425-433

Crique, et al. Epidemiology of Peripheral Artery Disease. Circ Res. 2015;116:1509-1526

Oriol Torón, et al. Metabolic syndrome and peripheral artery disease: Two related conditions. Endocrinol Nutr. 2016 Jun-Jul;63(6):258-64.

Conen, et al. Metabolic Syndrome, Inflammation and Risk of Symptomatic Peripheral Artery Disease in Women: A Prospective Study. Circulation. 2009; 120:1041-1047

Ness, et al. Prevalence of Symptomatic Peripheral Arterial Disease, Modifiable Risk Factors, and Appropriate Use of Drugs in the Treatment of Peripheral Arterial Disease in Older Persons Seen in a University General Medicine Clinic. J Gerontol A Biol Sci Med Sci. 2005;60(2):255-7.

Garimella, et al. Peripheral Artery Disease and Chronic Kidney Disease: Clinical Synergy to Improve Outcomes. Adv Chronic Kidney Dis. 2014; 21(6): 460–471